Course Design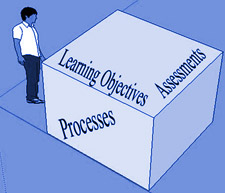 The design of a successful course does not arrive by accident. Careful planning and blueprinting (storyboarding) of your course design will save you time and money.
A critical factor in the design of a course is understanding how important a blueprint is in developing the "future vision" of the course. Even if you do not have time to add all the "fixtures and decorations" - the essential structures and utilities need to be worked into the course design. Otherwise, you will need to suffer the pains of remodeling (rather than simply adding) to your course design.
Which Mode?
Another aspect of online course design is determining how students will interact with the course. Will students need to interact as specific times and in specific activities (synchronously)? Will students be be given specific deadlines but be allowed to complete the learning activities at any times they wish (asynchronously)? Or will students be given access to the course content and activities and then complete them at any time with no specific deadlines (independent study).
Independent Study for Workforce and Customized Training
The independent study format has been used very successfully in computer technology training; students are sold a "subscription" to the content site, and then they can chose to schedule an examination for certification. If they fail the examination, they simply schedule another (for additional testing fees), and may take the certification test as many times as they would like.
The independent study model might be quite effective for customized and workforce training, since students would not be force to start the course on a specific "semester start" date, and students who already had considerable experience and knowledge could rapidly complete the course and put their new skills to work quickly.