Catching the JumpDrive Flu
USB Flash Memory drives are extremely popular, essentially making 3-1/2 inch floppy disks obsolete.
Some newer devices combine MP3 players, FM radios, and voice recorders into a "one tool rules" device.
However, with the increased use of jump drives, there are even more risks that computer worms and viruses might "jump" to you.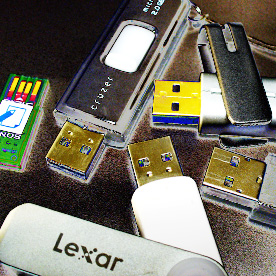 Jump drives have much larger capacities and run much more quickly than floppy diskettes. This makes them ideal for carrying and transferring viruses among computers. Also, these characteristics (and their appearance as a new "drive" to your computer) is a likely target for viruses, which may attempt to make replicas onto your USB device.
Another worry is spyware that can capture your usernames, passwords, and other confidential information. Spyware is very easy to copy onto your computer by a "friend" interested in learning more about you or having access to your computer when you're not around.
It is also very easy for someone with a jump-drive to copy sensitive and private information from your computer quickly and easily. Be cautious about allowing others to plug their flash-drives into your computer while you are logged in under your network account. Make sure that all anti-virus software is up-to-date, and "take the driver's seat" when any files are being copied to and from your computer.
If you find a flash drive, don't give into the temptation of keeping it or trying to "peek" into its contents. The "forgotten" jump drive might be a trick to install some nasty software onto your computer.
Some corporations are now "locking down" their computers so that USB devices cannot be added to the system. It is pretty easy to "play it safe" with your computer and your data.
Here are a few quick guidelines.
Update daily your anti-virus software definition file, and make sure that you pay your subscription renewal BEFORE it goes out of date.
Every week, schedule your computer to run a full system virus scan (which might catch additional files not found in "on-the-fly" virus checking).
When your computer does its weekly scan, also scan your USB jump drives.
Only allow USB drives from trusted sources to be connected to your computer (i.e. people who also are running up-to-date anti-virus software). Discourage others from using your computer in your absence.
If you do get a virus warning, remove the flash drive immediately (it may still be trying to download other viruses to your system), and then run a full system virus scan.
For flash drives that only contain data, routinely format them to erase any old file remnants.