Free Tools and Inexpensive Options
Programs by James Falkofske
Web applications can be used within your online and hybrid course sites to increase the engagement and the practice of course content. Here are some tools and their applications.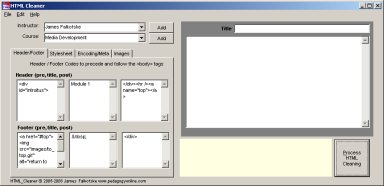 Falkofske's HTML Cleaner (compiled May 2009)
Here is the computer program that cleans up the "accessibility mess" left by Microsoft Word's
SAVE AS > Web Page (Filtered).
This latest version fixes the error if you already have the file to be cleaned opened in another program.
Microsoft .NET Framework (must be installed first)
HTML_Cleaner Program (.zip - must be saved and unzipped to local computer drive/not network)
Version 1.9.1 - Expiration date is December 30, 2009 - versions "time out" to ensure users get most updated versions.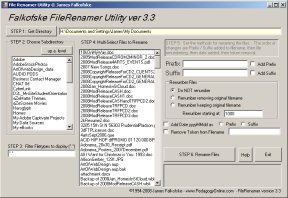 Falkofske's FileRenamer version 3.3 (compiled May 2009)
Here is the computer program that allows you to easily rename all those large sets of digital images and media. Add prefixes, suffixes, file number index, AND remove keyword/tokens from within filenames (great for removing those "IMGP" and "DSCF" tags inside your image names). Never again accidentally copy over precious memories with your latest batch of shots.
The newest features help Document Management - by allowing you to add the date the file was last modified into the filename as a prefix or suffix in yyyyMMdd format (MissionStatement20070728).
Microsoft .NET Framework (must be installed first)
JCF FileRenamer Program (.zip - must be saved and unzipped to local computer drive/not network)