Vocabulary:
Pod: Play-On-Demand
Vod: Video-On-Demand
Podcasting: broadcasting through Play-On-Demand
MP3: a music file format which uses compressed files to efficiently transfer audio
iPod / MP3 Player: a portable music player which utilizes MP3 format files
Audacity: a free, open source software (FOSS) which allows audio recording and editing, and which is widely used by educators
25 Minute Lesson on Audacity
iTunes: Apple's online music service and desktop music player
audio book / eBook: a book which can be downloaded to your computer in a MP3 audio format
Sources of Free Audio Books
You can download iTunes to your computer and then do a search for "audiobook" or "ebook" and then sort the Price column in ascending order (Free books will then appear at the top of the list).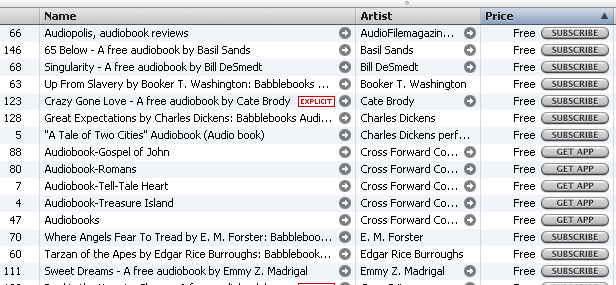 The website OpenCulture.com has hundreds of links to free audio books in categories of Fiction and Literature, Nonfiction, and Poetry.
LibriVox is a site which provides audio recordings and podcasts of books in the public domain.
Goverment Sources
Many government agencies will have audio or video podcasts available for free use and download. Here are a few examples:
You can also use the USASearch.gov website to complete a search which includes the search-term "podcast."
Recording Your Lectures
Lectures which are scripted will be more concise, precise, and accurate than lectures recorded during a live class. Also, scripted lectures will be shorter (since the pauses are eliminated -- which normally take place in the classroom to allow students to finish writing, to ask questions, and to provide answers to your questions).
Scripting your lectures also helps you meet accessibility requirements; your script becomes your text-transcript for your audio file.
You should consider using a headset microphone. Place the microphone above your nose to help eliminate breath noises from the recording.
You can record to your computer or to a portable voice recorder. Your headset can plug into the voice recorder to allow you to record your materials in environments where computers are not available.